TeraSpike Microprobe, THz near-field sensor (TD-800-Z-A-500G)
Price:
$4,250.00
$5,100.00
You Save: $850.00 (16% Off)
Smallest active THz probe-tip on the market.
Patented design.
Spatial resolution up to 3 um.
Frequency range 0-4 THz.
Adaptable to all laser-based THz-Systems with λ < 860 nm.
Mounting compatible with standard opto-mechanical components.
Typical optical excitation power 1-5 mW (1-5 uJ/cm2).
No bias voltage required during measurement.

Integrated overvoltage protection circuit.
Product Features
Up to now the TeraSpike TD-800-Z-A-500G is the only available microprobe which is sensitive to the z-component (coordinate system see graphs) of the THz near-field. Together with a high spatial resolution it is well suited for research applications, like meta-material or emitter development and characterization.
Protemics microprobe series TeraSpike is the new generation of high-performance microprobes for the photo-conductive detection of electric fields in the THz frequency range. Surface-near electric THz fields can now be measured with unprecedented resolution, signal quality and low invasiveness. The microprobes seamlessly fit into systems with optical excitation wavelengths below 860 nm and are the most cost-efficient solution to turn an existing time-domain pump/probe-system into a powerful THz near-field system for high-resolution imaging.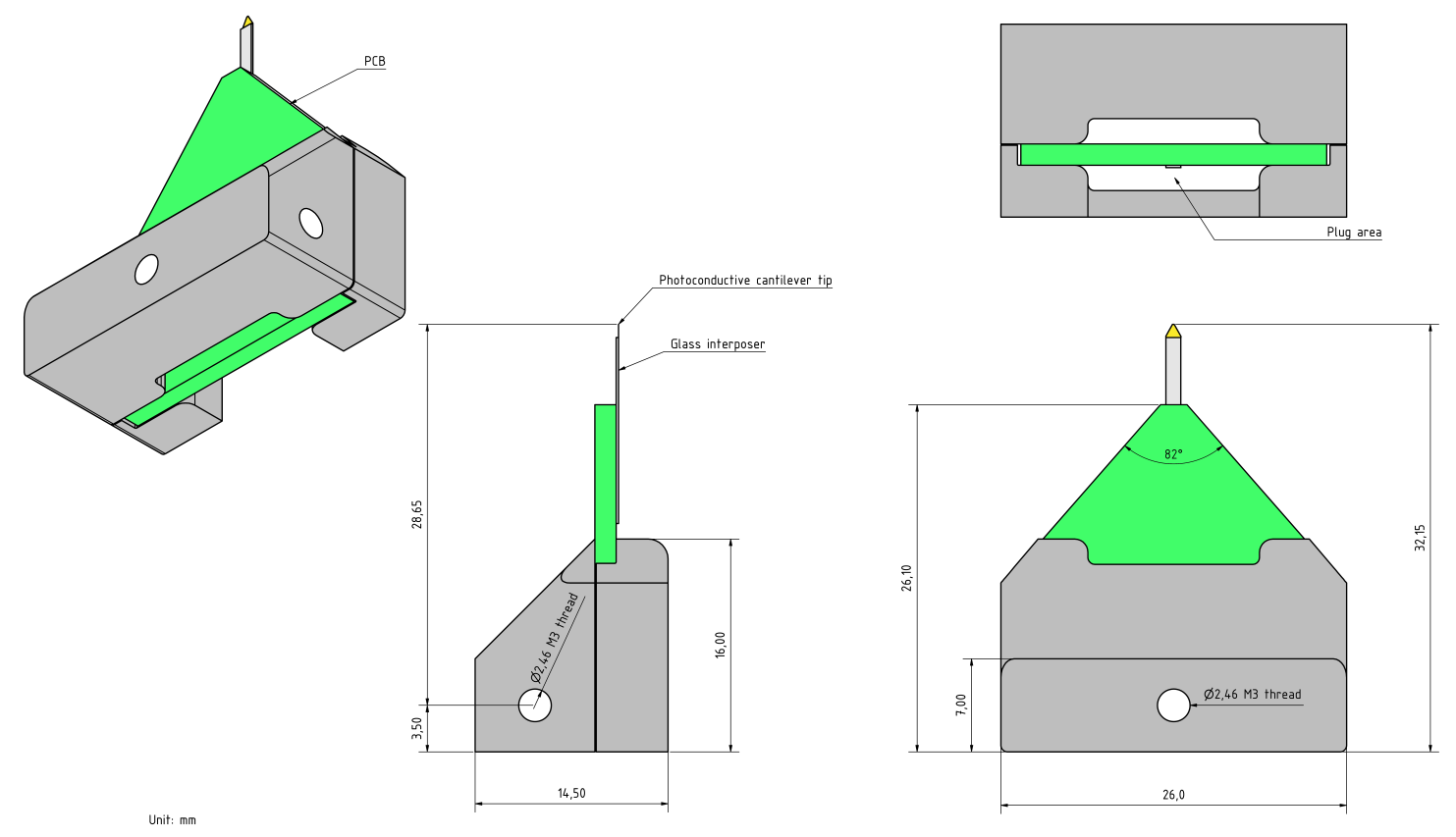 Breaking the resolution limits of standard THz imaging systems:
The capability of an existing THz setup can be vastly enhanced with the implementation of a TeraSpike near-field detector with micron resolution. This covers applications ranging from contactless sheet resistance measurement, time-domain reflecto-metry for fault isolation in chip-packages to THz near-field imaging of THz devices like meta-materials or waveguides. Thanks to the low optical power requirements of the TeraSpike microprobes (typ. < 4 mW average power at 700-860nm) they are compatible to most pulsed laser sources (pulse durations < 150 fs recommended). *The T-Era-100A-800-air and T-Era-400A-800-air Sensors can be used as the THz emitter.



---




Terahertz Research:


Application areas:

Meta-materials
Plasmonics
Passive devices
Emitters
Antennas
Waveguides
Sensor surfaces
Grapheme

Benefits:

Near-field access
Cost-efficient system extension
High-sensitivity
Low-invasiveness
Polarization sensitive
Broadband




---




Thin-Film Testing:


Application areas:

Solar cells
Displays
Flexible electronics
Semiconductors
Grapheme
Transparent conductors

Benefits:

Sheet resistance imaging
Contactless
Micron-scale resolution
Large-area scanning
High-speed scanning




---




Volume Screening:


Application areas:

Plastic laser weld seam inspection
Fiber enforced polymers
Chip underfill inspection
Organic layer screening

Benefits:

Non-destructive
Fast inspection
Screening of Vis/IR opaque plastics
Detection of micron-scale structures




---




Chip Testing:


Application areas:

Time-domain reflectometry
Fault isolation
Packaging level inspection
3D integration
Through silicon via (TSV)

Benefits:

Market leading TDR resolution
Sub-ps rise-times
Contactless
Non-destructive
Cost advantage over all-electronic systems
I already own a free-space THz TDS system. Is it possible to integrate the TeraSpike microprobe and perform near-field measurements?
The integration of TeraSpike microprobes into an existing TDS system is usually quite simple. Especially if the system is including a photoconductive detector: In this case most required components should be already available.
What is the dynamic range of your TeraSpike?
The effective dynamic range depends on your measurement scheme (e.g. ECOPS or Lock-in), the used emitter, integration time and other factors of the setup. With the TeraSpike TD-800-X-HRS we are usually working with a signal-to-noise-ration of 30dB in field-amplitude at short lock-in integration times well below 100ms.
Is the TeraSpike an AFM-based probe?
No, TeraSpike microprobes fill the gap between diffraction limited mm-scale resolution and AFM-based nm-scale resolution systems. Micron-scale resolution is achieved by using large-scale translation stages and (optionally) using optical surface distance monitoring. This helps to keep the system costs comparatively low and enables measurements over large-scale areas.
Which kind of laser do I need to use TeraSpike microprobes?
Basically, most femtosecond pulse oscillator systems with < 860 nm are compatible with our microprobes. The TeraSpike microprobe is optimized for femtosecond pulse excitation with a central wavelength around 800nm and a few mW of average optical power at repetition rates around of 80MHz.
Which orientations of THz excitation beam, sample surface and TeraSpike microprobe do you recommend?
For highest resolution we recommend to align the microprobe cantilever and THz excitation beam in vertical direction to the samples surface. Optical excitation of the TeraSpike is recommended from the non-metalized side of the cantilever as specified in the application notes in our download section.
What should be the distance between sample and TeraSpike microprobe?
The distance between the microprobe tip and the device under test should usually be approx. in the range of the targeted resolution.
What should I watch for regarding the optical probe beam alignment to the microprobe?
The probe beam has to stay focused and stable on the photo-switch of the microprobe during the measurements. For probe beam alignment you should use the photocurrent under applied bias voltage as a feedback signal.
Is there a preferred side of the microprobe cantilever for the optical probe beam excitation?
The recommended microprobe orientation and the range of laser beam excitation angles are given in our
application notes
(PDF file). The highest photocurrent for a given excitation power is achieved from the cantilever back-side. An optical excitation from the top-side of the cantilever (carrying the electrode structures) is possible as well, but will result in a decreased photo-current.
How sensitive are the microprobes to vibration? Will I need a vibration isolation?
Even at very short microprobe-to-sample distances a standard optical table with standard vibration isolation is usually sufficient to make undistorted measurements. However, vibration sources should not be placed on the optical table directly if possible. Mechanical choppers are usually uncritical, as long as there is a sufficient distance to the microprobe.
Product Details
Product Specification:
| | |
| --- | --- |
| Max. Spatial Resolution: | 8 um |
| PC Gap Size: | 5 um |
| Dark Current @ 1 V Bias: | < 0.4 nA |
| Photocurrent (4mW, 1 V bias, 20um focus): | > 0.5 uA |
| Detected Z-Field Component: | z |
| Excitation Wavelength: | 700 .. 860nm |
| Avg. Excitation Power: | 0.1 .. 4 mW |
| Conection Type: | SMP |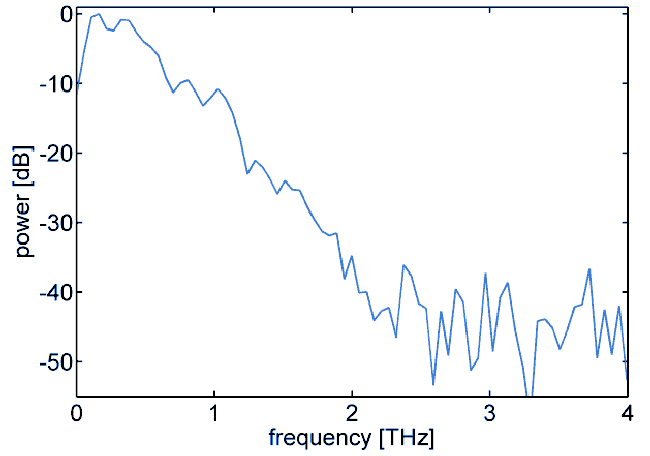 Product Specs
Product Manuals
If you are interested in ordering a large quantity of items you may qualify for volume pricing discounts. Volume Discount Pricing is a great way for customers to save big on large, bulk orders of most items available in our store. Please send a bulk order request to our friendly sales staff so they may create a quote and provide personal service for your order! You will receive a response within 1-2 business days and our office hours are Monday through Friday, 8am-5pm CST.
We make it as easy as possible to ensure you get the lowest prices available:
Let us know what products & the quantities you are interested in.
Get a detailed quote from a dedicated sales rep.
Our warehouse ships directly to you.
You enjoy the savings & are now a preferred customer.
Send A Request Now